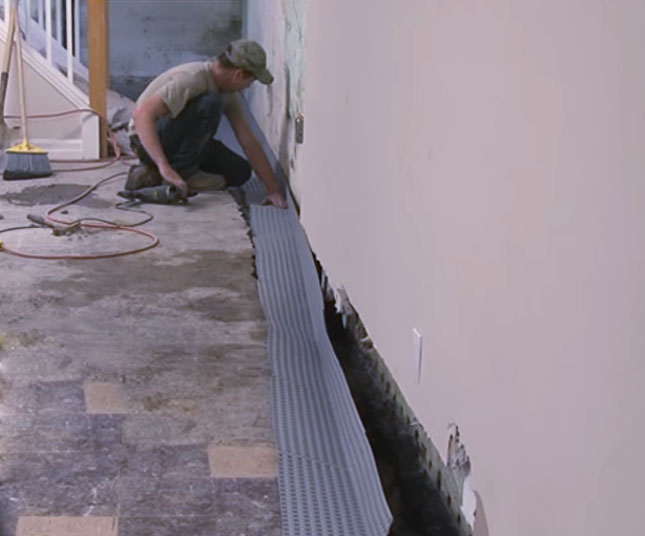 Drain Tile System Installation in Southeast Michigan
Now Dry Basement Waterproofing is your trusted source for professional drain tile system installation in Southeast Michigan. A properly functioning drain tile system is essential for keeping your basement dry and preventing water damage.
With our expertise and dedication to quality, we offer comprehensive drain tile solutions that ensure the protection and longevity of your home's foundation. We are available for a consultation at your convenience.
Contact Us
Our Drain Tile System Installation Services
A drain tile system, also known as a French drain or perimeter drain, is a network of perforated pipes installed around the foundation of a building, typically in the basement or crawl space. The purpose of the system is to collect and redirect excess groundwater and surface water away from the foundation.
This helps to prevent water infiltration, basement flooding, and potential structural damage. Take a look at the services we have to offer regarding a drain tile system for your home:
Complete Consultation
Our experienced team begins with a detailed evaluation of your basement's drainage needs. We take into consideration factors such as soil composition, water table level, and existing water issues to determine the most effective solution.
Each property is unique, and our drain tile solutions are tailored to meet your specific requirements. We design a system that efficiently redirects water away from your foundation, mitigating the risk of basement flooding.
Professional Installation
Our skilled technicians utilize advanced techniques and high-quality materials to install the drain tile system with precision. We ensure that the system is integrated seamlessly into your basement's infrastructure.
Ongoing Maintenance
We offer regular maintenance services to keep your drain tile system in optimal condition. Periodic inspections and cleaning ensure that your system continues to function effectively over time.
When it is uncommon for homeowners to inspect the drain tile system, a professional foundation drain tile company can take a look for you to ensure there are no problems that could cause bigger issues down the road.
Efficient Water Management
Our drain tile systems efficiently manage water around your foundation, helping to prevent soil erosion, moisture intrusion, and potential structural damage. A properly functioning drain tile system in the basement is essential to avoiding flood damage and foundation problems in your home.