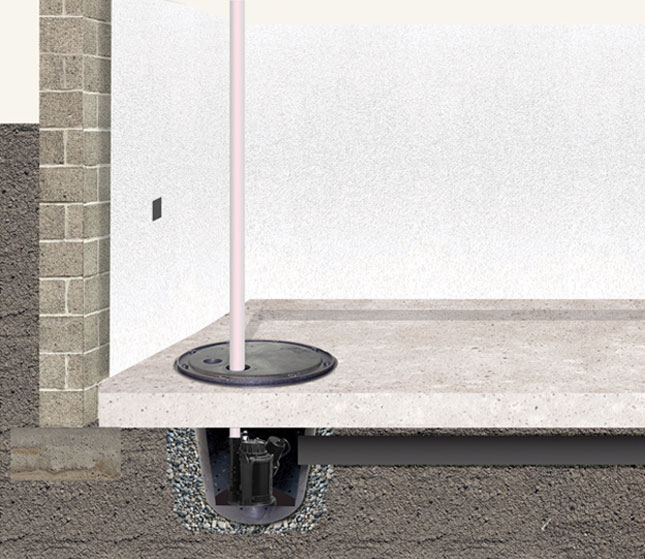 Best Sump Pump Services in Southeast Michigan
Welcome to Now Dry Basement Waterproofing, your trusted partner for Southeast Michigan's finest sump pump services. A properly functioning sump pump is crucial for keeping your basement dry and free from water damage.
With our expertise and dedication to excellence, we offer a comprehensive range of sump pump solutions to ensure your peace of mind and the protection of your valuable property. If you are in need of sump pump services, contact us to set up a consultation.
Contact Us
Our Sump Pump Services
Water damage and flooding can lead to thousands of dollars in repair and furniture replacement. It is essential to have a working sump pump to avoid flooding in your basement. A sump pump is a mechanical device typically installed in the lowest part of a basement or crawl space. Its primary function is to prevent water accumulation and flooding by automatically pumping out excess water that collects in a sump pit or basin.
Sump pumps are crucial for maintaining a dry environment in areas prone to water infiltration, helping to protect the foundation and interior spaces from water damage. Here are some sump pump services you may be interested in:
Sump Pump Installation
Our experienced technicians specialize in sump pump installation tailored to your basement's unique needs. Whether you're looking to replace an old unit or need a new installation, we ensure a seamless process from start to finish.
Meet with our team to identify your need for a sump pump installation and create a plan to get started.
Sump Pump Repair
If your sump pump is showing signs of malfunction, don't wait for the issue to worsen. Our prompt and efficient repair services can get your sump pump back in working condition, safeguarding your basement against potential flooding.
Even if you don't live in an area at high risk for flooding, keeping your sump pump in working condition will only work to your benefit. When the unexpected occurs, your sump pump can save you thousands of dollars in water damage.
Sump Pump Replacement
Over time, sump pumps may wear out and become less effective. Our team evaluates the condition of your existing pump and provides expert recommendations for replacement if necessary, ensuring the continued protection of your basement.
When repair costs become more pricey than replacing the system, let our team guide you on sump pump replacement options.
Sump Pump Maintenance
Regular maintenance is key to ensuring your sump pump remains in optimal condition. We offer scheduled maintenance services to inspect, clean, and test your sump pump, identifying any potential issues before they become major problems.
Use our expertise to identify problems while there is an easy fix. The last thing you want is to find out about a faulty sump pump when you need it most.
Emergency Sump Pump Services
Unexpected basement flooding can be a nightmare. Our emergency sump pump services are available to address urgent situations and prevent extensive water damage.
The faster you can remove the water, the faster you can dry out your basement and avoid permanent damage to your flooring, drywall, and furniture. Choose a sump pump installation today to avoid an emergency in the future.