Berkley's Top-Rated Basement Waterproofing Service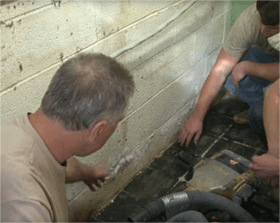 Now Dry is a fully licensed waterproofing contractor providing complete basement waterproofing and leak repair solutions for Berkley area homeowners. Since 1996, Now Dry has been providing honest, affordable and reliable solutions for wet basements, wet crawlspaces, cracked foundations and other water-related issues for homeowners across Michigan. We'll fix your wet basement issues and back it with a lifetime warranty!
Truth is, most leaky basement issues are a sign of bigger problem. Tars and quick-setting cements can provide a temporary patch, but they don't address the underlying issue. If you have an older home in Michigan, then drain tiles, sump pumps, and proper grading probably weren't even a consideration during initial build. Now Dry has experience in basement leak repair which is often needed in older homes, slab homes, and poured concrete basements. Get a real solution from a reputable waterproofing contractor today!
When Your DIY Waterproofing Solution Fails, Call Now Dry!
Honest Evaluations & Estimates
Proven Technology
Lifetime Transferrable Warranty
Work Directly with the Owner
Licensed & Fully Insured
Berkley's Premier Provider of Proven Basement Waterproofing Solutions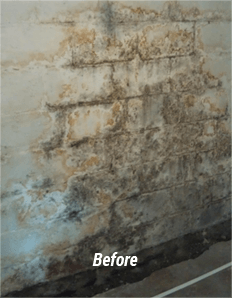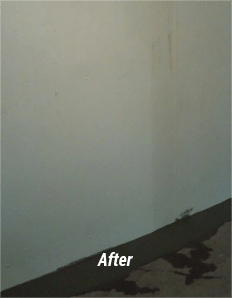 Are you looking for a trustworthy basement waterproofing contractor in Michigan? The team at Now Dry has the contractors you're looking for that can identify the actual cause of the water leaks in your basement and have the experience to provide a solution guaranteed to stop the leak.
Water damage can wreak havoc in a basement and cause more issues down the road. Quick-setting cements and other DIY products sold at big box stores are only a bandage on bigger problems. Eventually they fail, and water will simply reroute to another area along your foundation until it finds a way in. No matter how old your home is or what type of Michigan basement you have - poured concrete, concrete block, or field-stone walls - Now Dry has a customized solution to keep water from getting in.
Now Dry offers revolutionary technologies to keep your home protected against unexpected flooding, leaking, and foundation damage caused by excess water in your basement. Our patented technologies are guaranteed to reinforce your home against costly water damage.
As the foundation to your home, you need a professional who specializes in basement leak repair and waterproofing systems so your basement walls and flooring remain structurally sound - ensuring water doesn't come back. At Now Dry, our waterproofing technicians have been providing homeowners with the answers they need about the source of the water in their basement and how to stop it.
Are You Ready To Reclaim Your Basement?
Let us custom-design a wet basement solution to keep your basement dry and make it usable again!
Basement Waterproofing
Foundation Crack Repair
Crawl Space Waterproofing
Wall Crack Repair
Bowed Wall Repair
Leaking Wall Crack Injection
Basement Finishing
Basement Window Leaks
Basement Dehumidifiers
Sump Pump Installation
French Drain Installation
Drain Tile Installation
We provide lifetime guarantees for all of our waterproofing systems and services.
Michigan Basement Waterproofing Design & Pre-Installation Inspection
Waterproofing companies often implement a one-size-fits-all basement waterproofing design for homes, but with Now Dry, every intricate aspect of your home will be taken into consideration when designing the system that will best keep your home safe from water damage. We will even assess the outside conditions of the property around your home to ensure the best fit solutions for you.
Our certified and expert installers will map out your home and identify any high-risk areas. Once your entire basement or crawlspace is inspected, we will provide you with our best recommendation for your custom Now Dry basement waterproofing system. For the best basement waterproofing solution, trust the experts at Now Dry.
Berkley's #1 Source for Drain Tile Installation
Michigan basement water problems usually can't be solved with DIY products from big box stores. Depending on how old your home is, it might not have a drainage system installed to keep underground water and runoff from seeping into your basement or crawlspace. The Now Dry certified waterproofing contractors provide drain tile installation services as a part of an entire basement waterproofing system. They will provide a free assessment of the conditions of your basement or crawlspace as well as the property around your home to determine the root cause of your flooding before a solution is recommended.
Many of our high-tech waterproofing solutions and products can be installed quickly and with very little inconvenience to your family. We ensure that our drain tile pipes meet requirements for durability, safety, and thermal performance at all times. We do not encourage home owners to do the installation work on their own -- this is a dangerous task and includes a lot of nuances and engineered safety that only our experienced team can do.
You may need professional drain tile installation if you're experiencing:
Basement flooding
Leaking walls
Foundation cracks
Water seeping through basement floors
Basement window and footing leaks
Standing water in basement
Seasonal water in basement
Sump Pump Installation
Sump pump systems are typically installed in basements built on properties where the water table is above the foundation of a home and basement flooding happens regularly. If your basement floods after heavy rains, during spring when the snow melts, or anytime in between, call Now Dry to see if you need a sump pump installed as part of your basement waterproofing solution.
Many plumbers offer to install sump pumps, but due to the engineering involved in moving water away from your foundation, sump pumps should be installed by a trusted waterproofing company. As Michigan's top-rated waterproofing company, we will provide an honest assessment of your basement leak and help determine if a sump pump is a necessary component to keep your basement dry.
What do our customers have to say about our service?
"I met with a lot of companies and his system is the best and his price is a lot lower than the larger waterproofing companies. Plus, Steve over sees all the jobs and puts together the waterproofing system himself, which is crucial. If you are looking for an honest company with a great product and great price, I highly recommend calling Steve at Now Dry Basement Water Proofing." Benjamin R.*

"Steve and his assistant were extremely knowledgeable, very fast at working and made minimal holes to our finished basement to repair many hidden tie-rod holes that had begun to leak. Highly, highly recommend him! He has also done work for my sister who was having foundation issues." James T.*

---
Now Dry is one of Michigan's leading basement waterproofing contractors. If you have a wet basement issue, contact us today for a free basement inspection!