Ferndale's Trusted Choice for Foundation Repair Services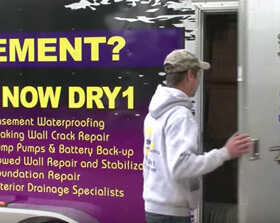 Now Dry is Ferndale's leading provider of expert repair solutions for settled foundations, foundation cracks, cracked basement walls, sagging floors and more. Our experienced technicians are trained specifically in basement waterproofing and foundation repair, so you know you'll have the best repair solution at the best price. We understand how stressful finding the right company to work on your basement and foundation can be -- but that's where we come in! We are experienced contractors with years of experience repairing Michigan basements.
What may seem like a cosmetic crack in your foundation can actually cause extensive damage if left untreated in a timely manner. Now Dry performs expert foundation repair to guarantee your most valuable asset stays safe from further damage. Don't risk your home's structure to those less qualified; Now Dry is your only choice for expert foundation repair and crack sealing solutions!
Michigan's Comprehensive Foundation & Basement Repair Solutions
Ferndale's Leader in Foundation & Cracked Wall Repair
We Only Use High-Quality Products and Proven Techniques to Seal Your Wall Cracks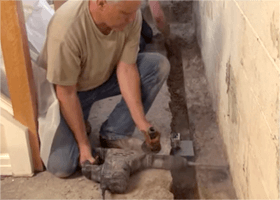 What may seem like a small crack in your basement foundation can cause extensive damage if left alone. Patching walls or floor cracks with DIY products are only a temporary solution - you need an expert foundation repair from waterproofing contractors at Now Dry. We seal wall cracks and provide stabilization for bowed or buckling walls, sagging floors and settling foundations. Our work is guaranteed for the life of your home.
You may be wondering, how can a little water leak cause so much damage? If your home is built on a property with a high water table, it's constantly subject to water runoff. Water can accumulate in the soil around the foundation. As it freezes and thaws, it expands the soil and puts pressure on the walls and the foundation footings. From this, cracks appear. The cracks will only get worse if left untreated. Once your foundation is severely cracked, it will require substantial reinforcement to prevent bigger structural damage to your home.
Common Signs You May Need Foundation Repair:
Cracks in walls, floors or ceilings
Popped nails
Sagging crawl spaces
Sagging floors
Bowed walls
Doors/windows sticking or out of square
Bulging basement walls
Foundation Crack Repair & Wall Crack Injection Services
Wall cracks can be quite unsightly and cause for alarm to a homeowner, especially if left unchecked. Wall cracks can lead to total destruction of a wall and possibly more! Don't wait until the damage is too far gone; call the foundation repair specialists at Now Dry. We are equipped and trained to handle all your foundation, wall crack and paneling system needs!
Any basement can leak or flood due to the harsh weather elements that come and go in Michigan. As the leader in basement leak repair, not only will we repair the cracks and seal up leaks, we will also advise you on how to prevent future leaks and flooding with our effective waterproofing solutions.
Basement Wall Panel System Repair & Installation
Our wall panel systems transform your ugly cement walls into smooth, beautiful, stain-resistant walls. They are designed to work with our custom waterproofing system and provide a finished surface that's ready to paint in your favorite color. Once installed, our wall panel system will direct any wall seepage to your drain tile system and over to your sump pump.
Our superior installation of White Panel Systems protects your basement from the aftermath of water damage caused by leaks. Check out the before and after photos and see for yourself! This system will protect your home from future mold and mildew that comes along with wet basement walls, seals, and wall cracks.
Basement Bowed and Buckling Wall Stabilization
Do you have a block wall that is cracked or bowed, leaving your home's structure unstable? Call Now Dry right away. Now Dry's certified installers can have your basement wall stabilized in no time. Our trained professionals have been in the industry for many years, so you can trust we know exactly how to protect your home from further damage and correct any instability your basement is facing already. Our experienced contractors are licensed to repair and rebuild your home's foundation and provide a waterproofing solution that will prevent your walls from cracking and buckling again.
Hear directly from our satisfied customers!
"I had a crack in my foundation in my basement and the crew from now dry showed up within an hour and fixed everything! I highly recommend now dry!" Joshua Williams*

"On time, very friendly, nice workers, fast and complete, good clean up and finish work." Cathy Y. *

---
Ready to fix that cracked wall? Call Now Dry! We provide free estimates for foundation repair and leaky basement issues.